Can you believe it? We're just nine days out from Christmas!
As we reach closer to the big day, things will continue to get more hectic. If you're planning to gather the family and friends for your Christmas holiday meal, we've compiled a list of the best restaurants offering a delicious meal this season that still have one or two reservations open.
Book now to guarantee you get to enjoy one of these delicious Christmas holiday meals.
1. Ancora Waterfront Dining and Patio
Photo Credit: Ancora Waterfront Dining & Patio
Ancora is well-known for its unique harmony of Peruvian and Japanese flavors and, of course, the restaurant's stunning water views. This holiday season, Chef Ricardo Valverde continues his tradition of using sustainable and locally sourced ingredients to provide a weekday Prix-Fixe lunch menu and a pair of exclusive New Year's Eve dinners.
Highlights of the lunch Prix-Fixe, which is available until December 28th, include Nikkei Quinoa Salad, Prosciutto-Wrapped Atlantic Cod and Spiced Picarones.
Location: 1600 Howe Street, Vancouver BC  Canada  V6Z 2L9
Menu: View Here
Price: $29 per person
Booking: Online Here
Instagram | Facebook | Website
2. Railtown Catering Holiday Turkey-To-Go packages
Photo credit: Railtown Catering
If you're hosting a Christmas gathering at your house, cut down on the amount of time you're stuck in the kitchen and treat your guests to one of Railtown Catering's Holiday Turkey-To-Go packages. Railtown's award-winning team of chefs imbue French cooking with a distinctive West Coast style and sophisticated presentation that always impresses.
They are "fresh, friendly, genuinely Vancouver." This year's menu includes sage-roasted turkey, giblet gravy, dried apricot, chestnut and brioche stuffing, Brussel sprouts with toasted almonds, mashed Yukon gold potatoes with chives and pecan pie with Chantilly cream. The standard menu is designed to serve eight to ten guests, but larger groups can order additional side dishes. The To-Go Packages are available for pickup between 10 AM – 5 PM at Railtown Cafe (397 Railway Street) December 24 – December 26, or by delivery for an additional charge.
Location: 397 Railway Street, Vancouver, BC V6A 1A4
Menu: View Here
Price: $319
Order: 604-568-8811 or Online
Instagram | Facebook | Website
3. Juke Fried Chicken Turducken Feast (Pick Up Only)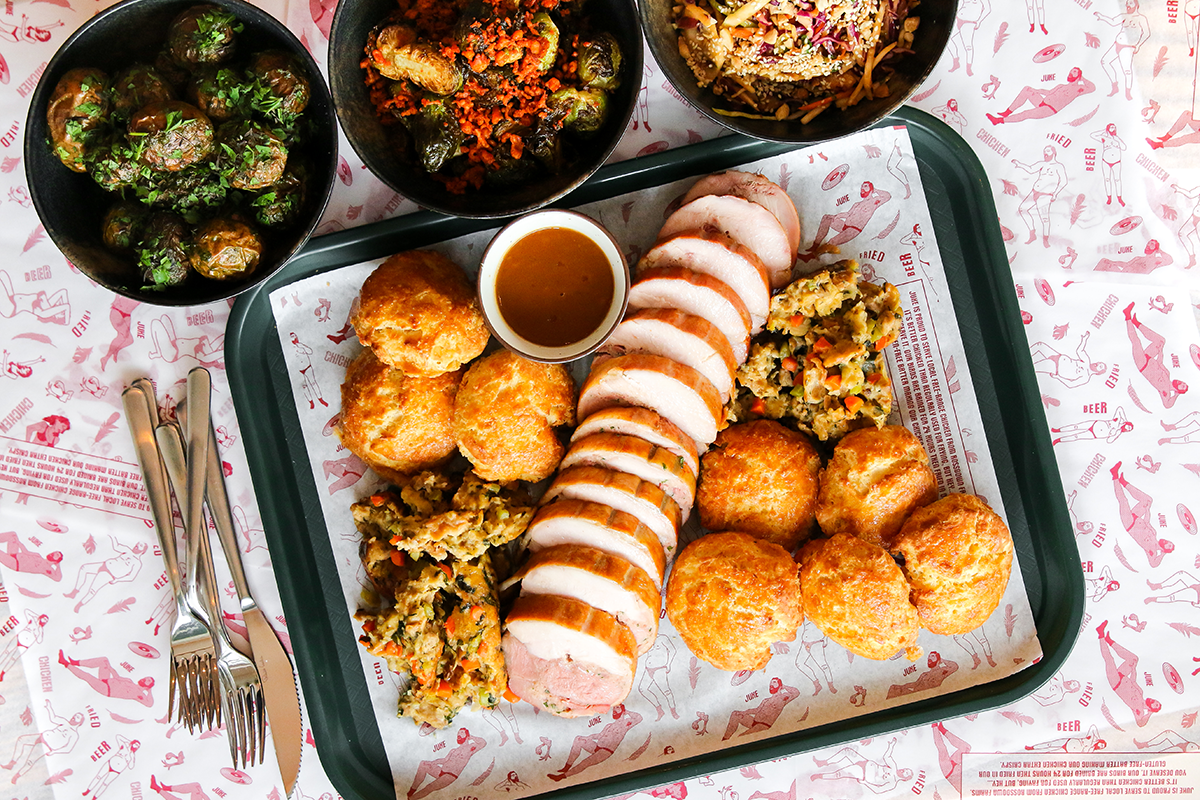 Photo Credit: Juke Fried Chicken
There are multiple ways you can enjoy the sensational fried chicken and other hearty comfort-food items from this hip kitchen and bar this holiday season. Juke Fried Chicken are offering an exclusive pick up only (Sunday, December 23) Turducken Feast package filled with pre-sliced turducken, stuffing, gravy, Brussel sprouts, herb-roasted potatoes, cranberry sauce, honey-roasted squash and country biscuits with whipped schmaltz. A limited number of these feasts are available, so get yours today. Orders can be picked up at Little Juke (1074 Davie Street) from 11 a.m. to 6 p.m. on Sunday, December 23.
Location: 1074 Davie Street, Vancouver BC
Price: $169
Order: info@jukefriedchicken.com before Dec. 20th
Instagram | Facebook | Website
4. Cibo Trattoria Feast of Seven Fishes,
Photo Credit: Cibo Trattoria
This elegant Vancouver restaurant is also preparing multiple ways for guests to enjoy their delectable dishes this holiday season. Executive Chef Curtis Luk continues the tradition of preparing rustic Italian dishes with his "Feast of Seven Fishes," inspired by the typical Italian Christmas tradition on Sunday, December 23 and Monday, December 24. The seven-course menu at Cibo Trattoria will feature local and fresh seafood including crispy smelt, polpo alla Luciana, timballo di frutti di mare and sogliola ripieno. Wine pairings are available to make the feast even more enjoyable.
Location: 900 Seymour Street, Vancouver BC  V6B 3L9
Menu: View Here
Price: $88 per person, plus tax and gratuity; +$55 per person with wine pairings
Reservation: Reserve now
Instagram | Facebook | Website
5. Boulevard Kitchen & Oyster Bar Christmas Eve and Christmas Day Meal
Photo Credit: Boulevard Kitchen & Oyster Bar
Recently recognized as Best Seafood and Best Upscale Chef of the Year by Vancouver Magazine, Boulevard is sure to be popular this holiday season. Diners can choose from a full suite of holiday offerings for Christmas Eve and Christmas Day.
Christmas Eve Brunch and Dinner
The Christmas Eve gourmet brunch (11AM – 3PM) by Executive Chef Roger Ma will feature a $68 per person three course prix-fixe menu featuring lobster-infused coconut and butternut squash bisque, BLVD poke bowl, and wild mushroom and Comte cheese omelet. The dinner (5PM – 11PM) service will also headline a festive prix-fixe menu featuring butternut squash velouté, roasted Fraser Valley turkey and bûche de noël dessert for $77 per person.  
Christmas Day Brunch and Dinner Buffet
Join Boulevard on Christmas Day for their signature grand buffet. Their luxurious brunch and dinner will highlight various delicious items for you and your party to enjoy. Such as: locally sourced charcuterie, heirloom beet salad, smoked steelhead trout and albacore tuna tataki, a carving station featuring prime striploin, porchetta and roasted turkey and desserts by Executive Pastry Chef Kenta Takahashi. Buffets are $88 per person or $49 for children ages 3 – 12.
Location: 845 Burrard Street, Vancouver BC
Menu: Christmas Eve Brunch; Christmas Eve Dinner; Christmas Day
Price: $68 – $88 per person
Reservations: 604-642-2900 or online
Instagram | Facebook | Website
6. West Restaurant Holiday Menus
View this post on Instagram
With Winter Prix-Fixe, Holiday Lunch Prix-Fixe, Christmas Eve, West Restaurant features many ways to make your holidays a little merrier. West has been recognized as the 'jewel in Vancouver's culinary crown' with its contemporary regional cuisine and these menus highlight this expertise. Executive Chef Bobby Milheron's commitment to local, peak-of-season ingredients is highlighted in his holiday fare.
With roasted Lingcod, Johnston pork rack handpicked organic greens, beetroot salad, burrata from Puglia, grilled Pacific octopus, Haida Gwaii sablefish, Kusshi oysters, biodynamic risotto, Yarrow Meadows duck breast and more your holiday meal at West promises to be one-of-a-kind.
Location: 2881 Granville Street, Vancouver, BC V6H 3J4
Menu: View here
Reservations: Online
Instagram | Facebook | Website
7. YEW – Seafood + Bar
View this post on Instagram
Known for premium sustainable seafood, this downtown gem operates on an ocean-to-table model. For Christmas, the YEW team is continuing its passion for fresh ingredients with three delicious meals. On Christmas Eve you can enjoy Dungeness crab, lobster vol au vent, braised oxtail parpadelle and a "Santa's Gift" dessert.
The Christmas Day brunch buffet is designed to delight families with a great spread of pastries, seafood, turkey station, pumpkin cole slaw, and buttermilk whipped potatoes. Or if you prefer, you could indulge in the countless bakeshop treats that will be on hand. Christmas Day dinner promises to be equally as delectable with scallop minestrone, pan seared sablefish, and beef tenderloin, to name a few options.
Location: 791 W Georgia St, Vancouver, BC V6C 2T4
Menu: View here
Reservations: Online
Instagram | Facebook | Website
8: Hawksworth Restaurant Holiday Tasting Menu
View this post on Instagram
Although their Christmas dinner may be booked up, there's still something for you and your party to enjoy.
Vancouverite David Hawksworth shares his culinary expertise at his contemporary Canadian restaurant. With an absolute dedication to quality, the tasting menus are sure to be excellent. The menu may look simple upon first glance, but food this fresh doesn't need the distraction of fancy menus. Enjoy finely crafted dishes with crab, mussels, cod, duck and more.
Location: 801 West Georgia Street, Vancouver, BC  V6C 1P7
Menu: View here
Price: $129 per person
Reservations: Online
Instagram | Facebook | Website
9. The Holy Crab Seafood Feast
View this post on Instagram
Looking for something more interactive?
Louisiana-inspired seafood restaurant, The Holy Crab, is offering their premium local and imported seafood with their new Holiday Menu. The Holiday Seafood Feast and Extravaganza is available for two or four people parties until the end of the year.
Depending on which option you choose, you'll start your meal off with wine, B.C Fanny Bay Oysters, calamari, and deep fried frog legs. Once the appetizers are out of the way, you'll be needing your trusty lobster crackers and plastic gloves for the pile of lobster, shrimp, mussels, and other delicious crustaceans. Add extra flavour to your meal by choosing from various level of spicy Cajun sauce – from mild to HOLY MOLY. End off your fun and interactive meal with Holy Crab's House Special dessert: which may or may not include ice cream and bananas.
The Holy Crab is part of the Vancouver Aquarium's Ocean Wise Seafood Program, indicating that certain items are sustainable sourced to ensure the health of our oceans for generations.
Location: 1588 Robson Street, Vancouver, BC V6G2G5
Menu: View Here
Reservations: Online
Instagram | Facebook | Website
Is your mouth watering yet?
While it's difficult to decide between all of the amazing dishes Vancouverites are cooking up this holiday season, hurry! Reservations and to go services tend to get booked and sell out quickly. Whether you choose traditional or modern cuisine, dine-in or takeaway, you're sure to have an unforgettable Christmas dinner in Vancouver.
The following two tabs change content below.
Latest posts by Noms Magazine (see all)